Wednesday was the second day of Paris Fashion Week, and all eyes were on Alexander Wang. This was his fourth season as creative director of Balenciaga, and ever since his first collection with the French label he has pushed it from a high-class brand to one that's more accessible and downtown cool. This season, everyone wondered if Wang would find a happy medium.
The show began more than a half hour late thanks to the arrival of Kimye and baby North. After they took their seats, the runway lit up and smoke seethed from below while club music pounded from massive speakers. It's unusual for a show to play such hard bass house music during Paris Fashion Week. It was the "it" show of the day, and Anna Wintour made that official with her presence (she was on time).
The collection had Wang written all over it: sporty accents and crop tops, but still infused with Balenciaga's flattering silhouettes. Indeed, embroidered crystals on some of the blouses were a nod to classic Balenciaga.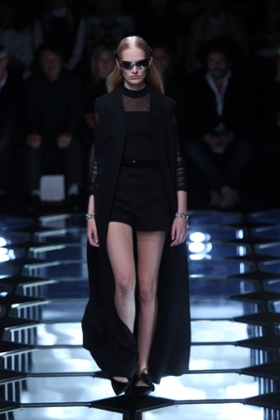 The most eye-catching pieces were the sleeveless trench coats that dragged on the floor—and the shoes! One pair was a blush beading sandal and another was a very hard black leather sandal. They'll both be must-haves this season.
It's safe to say Wang found his happy medium as a designer with a brand he didn't create, yet who retains and builds upon its iconic Parisian heritage. He's succeeded in making Balenciaga more hip, young, and urbane—a brand every woman can appreciate.