Drag artist Sister Roma is one of many who was kicked off of Facebook for not using their legal names. Though the controversy has subsided, the problem has not gone away.
She recently shared her thoughts on the "real names" policy with dot429, discussing her reaction to it and her ongoing involvement in the fight against it.
dot429: How did you feel when you realized that your profile would identify you as Michael Williams?
Sister Roma: I was outraged! I felt violated and invalidated. How dare Facebook claim that Roma was not my real name? I have been living authentically and identifying as Sister Roma for nearly three decades. I've devoted more than half my life to serving my community and interacting with my friends and everyone online and in everyday life as Roma. Basically, I was pissed off.
dot429: Could you describe your involvement in the fight against the "real names" policy?

SR: I thought that once I explained to Facebook that I didn't want to change the name on my profile, they would just change it right back.
Well, that was not the case. It's virtually impossible to actually contact a real person at Facebook. So I tweeted "Tell @Facebook that their real name policy is unfair and discriminatory. #MyNameIsRoma." That tweet went viral.
I was also posting the same thing on Facebook. While I was fighting the issue online, some of my friends here in San Francisco were planning a meeting to organize a protest on Facebook's campus. Representatives of several of the affected communities, including drag queens, drag kings, burlesque performers, and members of the trans community, were ready to move!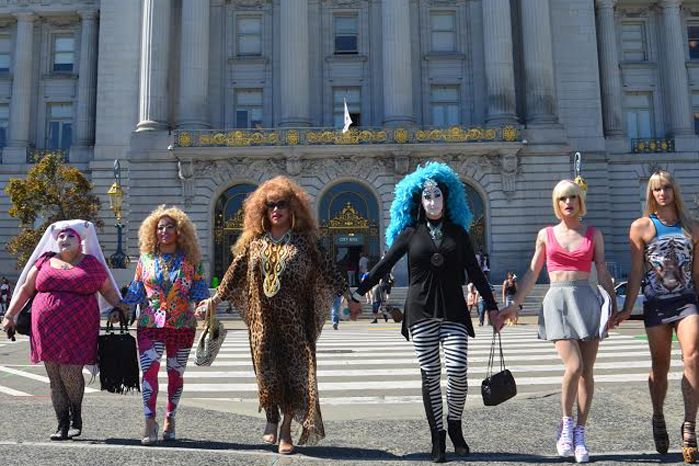 Supervisor David Campos, Heklina, BeBe Sweetbriar, Alex U. Inn, Dottie Lux, Little Miss Hot Mess, Tom Temprano, Mark Daniel Snyder, Matt Cagle [and I]formed the #MyNameIs Campaign.
All I wanted to do was get Facebook's attention. Well, I got it.
I received a phone call from Facebook offering me a conference call with policy makers to discuss the real names issue. What they didn't know is that I planned to invite Supervisor Campos to join me on the conversation. The tone really changed when they found out David was on the call.
I think they thought that they were going to appease this crazy drag queen and everything would just blow over. But our team was determined to have a face-to-face meeting. We demanded one within the week—and they complied!
dot429: Could you talk specifically about your meetings with Facebook officials?
SR: The first meeting was very crowded. We all went in full drag. We brought about 12 people [including]Heklina, Bebe, Lil Miss Hot Mess, and I, all in drag.
They had twelve or more people as well. Basically, we went around the table, introduced ourselves and told briefly who we were—and our time was up! We were like—no way. Nothing has been addressed. We have major concerns. Real issues, real questions and we want answers. We wouldn't leave the room until they agreed to set up another meeting.
It was during the second meeting with [Chief Product Officer] Chris Cox that we got some real action. Facebook realized that this was a serious issue. Our community was virtually being attacked and disappearing from Facebook at an alarming rate.
It was after that meeting that we had the press conference where Facebook made their grand gesture apologizing to the LGBT community. We've had four meetings so far. Changes are in the works. To be fair, Facebook does recognize that this problem is real and that it affects a lot more than drag queens. It's been interesting to see them devote time and energy to trying to reach a compromise that works for our community, while maintaining their commitment to provide a safe and authentic experience for their 1.5 billion users.
dot429: How did it make you feel when Facebook's response was to give people "extra" time to change their names?
SR: Baby steps.
dot429: What has been going on since then? More specifically, what have you been up to?
SR: We've gotten Facebook to understand and acknowledge that millions of users have authentic identities that cannot be proven [by]a government issued ID. Facebook is trying to expand their list of acceptable forms of ID while also sensitizing their team to issues related to queer identity.
Facebook now claims that no one will have their legal name displayed on their profile without explicit permission. They are changing the language on the site to avoid sounding accusatory and to make the experience less traumatic. They are also exploring the way reports are made, looking for malicious serial reporters, and developing high-end technology that can "classify" a profile as belonging to a real person. They are devoting a lot of time and energy to this problem.
dot429: For people who do not understand—and may not be very familiar with—what has been going on, could you explain why the policy is problematic or even dangerous?
SR: When I started this campaign, I was deluged with email from people all over the world who use chosen or protective names on Facebook. It became quite clear that this issue was more than just a bunch of drag queens bitching because we can't use our "stage names." This issue affects the lives of so many people who need to keep their legal names out of the public.
I received email from survivors of domestic violence, bullied youth, school teachers, mental health care workers, members of the Leather/Fetish/BDSM community, authors, musicians, military personnel, activists, burlesque performers, and, most notably, trans men and women.
All I would ask is that you put yourself in someone else's place for one minute. Imagine that you have been mercilessly bullied and beat up in high school and cyberbullied by the same jerks online to the point where you consider taking your own life. Imagine that you have been stalked to the point of being forced to get a restraining order or even had to move away from the town where you live—and your stalker is still out there, looking for you.
Imagine that you're a woman who had an abusive husband who served in the military and suffers from PTSD who tied you and your children up and threatened to kill you all, but you escaped—barely.
Imagine that you never felt comfortable in your own skin—you always knew you were different and that the way you were on the inside didn't match the outside. You finally find the courage to come out as transgender. You have a community on Facebook that supports you and serves as your lifeline.
But in your everyday life, if you were exposed as trans, your family would disown you, and you would lose your job and the place where you live. You'd be put in real danger of being bullied, beaten, and in extreme cases, murdered.
These are all true and real examples of people that I have talked with. Imagine if it were you, and then tell me that you shouldn't be able to use your chosen name or that the name isn't real.
dot429: You receive 10-15 messages from people affected by the policy every day. How do you handle that?
SR: I have the email addresses to people directly responsible for reviewing cases on a one-on-one basis. If someone gets reported they can email me with specifics at roma [at]thesisters.org, and I'll see what I can do.
I am happy to do it, but it's frustrating because Facebook is generally no more communicative with me than they are with anyone else. I never know if a profile name will be deemed authentic and changed back or not. If it's not, they don't tell me why.
Often they just change them back with no word to anyone—the only way people know is that they go try to log in again and it works. Sometimes it takes a day or two, sometimes I have to re-send a request three or more times. But the suspensions keep happening, so it feels very much like swimming upstream.