Remember the coolest teacher you ever had in college?
Parker Posey's character in Woody Allen's latest film, Irrational Man, Rita, will probably remind you of whomever that was. She's an eccentric science professor at Braylin, a fictional East Coast liberal arts campus whose students are both erudite and Instagram-able. Think of her as the Manic Pixie Dream Girl of the faculty lounge.
Last week, Ms. Posey herself sat down with us to talk about her experiences on playing Rita in her first Woody Allen movie alongside Joaquin Phoenix and Emma Stone.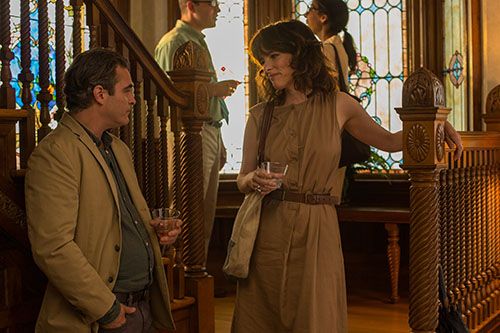 "I like Rita," Posey said. "She's cool enough to talk to the kids, she smokes pot, she's a talker. I wore these great loafers I got at the Goodwill that I thought were very science teacher."
Even though this kind of role may seem like a natural fit for her, it's surprising to know this isn't a part she's played until now.
"I've always wanted to play a teacher. I love the teachers that I've had. They were savvy and brassy, the stars of the classroom." Posey said. "There are not a lot of women who are science teachers, so they toughened her up."
And that's how Rita comes across to the audience, even if her attraction to the eponymous Irrational Man, binge drinking Abe Lucas (Phoenix) — who also happens to be the new philosophy professor — might not make a lot of sense.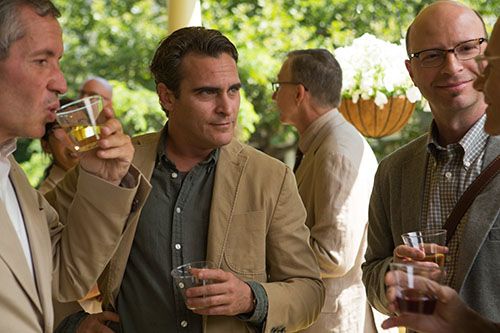 "Even a science teacher can be taken by the irrational man," Posey said. "I have this fantasy that if Abe comes, he's going to rescue me from this boring, trapped life being a teacher. We deal with our fantasies a lot. This is a portrayal of a woman who is teetering. She's aware of her fantasy."
Then again, Abe is a big man on campus. As he stares into the abyss with an empty bottle of scotch in one hand and bleak nothingness in the other, he gets plenty of attention, especially from women. Like Jill, his most young and impressionable student, played by Stone, who will stop at nothing to be his teacher's pet with benefits.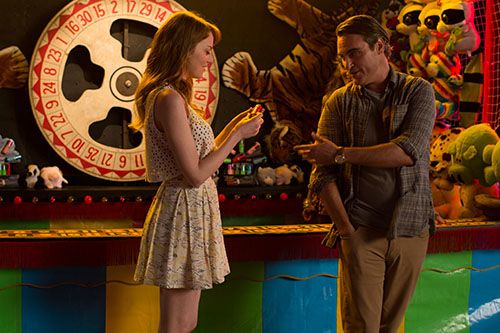 "Teacher/student is a classic motif. It's as old as the Greeks. We're all teachers and students to ourselves. It's just a way to look at storytelling that's not so literal," Posey said.
Much like Rita, Jill spends most of the film building a fantasy world around Abe Lucas, distancing herself from her friends and family in the process. Abe becomes everything — her nihilistic guru, her hobby, and her school-girl crush, all in one.
"We see these two women come really close to seeing this man, and not seeing him. They're in a maze. It's like the minotaur in the maze and these women who flirt with the irrational man are being drawn in on a conscious level," she said. "I don't think Rita is irrational. I think she's suffering and he's suffering too, but he's irrational."
Abe spends most of the film's running time bouncing back between both ladies while trying to avoid finding a purpose for his life.
Until one day, when he and Jill overhear a woman crying about an injustice in the next booth at a diner. He realizes then he can cure both his impotency and his existential hangover by murdering someone he's never even met. At that point, Irrational Man becomes a more romantic take on Dial M for Murder.
"This is kind of like a Hitchcock movie," Posey said. "It's also kind of screwball and enjoyable in that we watch these two great actors with two great personalities dupe each other. It's in an archetypal realm."
We may have mentioned that this is the first time that Parker Posey has ever worked with Woody Allen. As someone who has built her career on independent cinema, this was an honor she didn't take lightly at all.
"I found myself working with Woody Allen and it was bittersweet. Wow. The progenitor of this, you could say, and the last man standing," Posey said. "He's influenced everybody. Especially now. People like Louie CK, creating their own material and humor out of their neuroses."
Irrational Man is also just another accomplishment on Posey's resume full of high profile roles and guest appearances on just about everything ever. Which is why we wanted to ask The Queen of the Indies about why she isn't starring in many indies these days.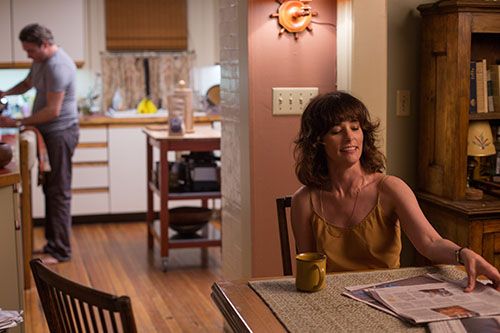 "The past decade I've been doing what my agents have told me to do. Guest star on this TV show, show up for this and it could lead to something, go take meetings in LA. I've done a few independent films like Broken English but not as much work in independent cinema in this past decade as I would have liked."
"The independent film system changed," Posey added. "We never really saw enough of the second film or the third film of a lot of these incredible directors of the '90s. That's just heartbreaking. We want the new and the undiscovered twenty-something. We haven't nurtured the storyteller, the writer, the director auteur. I think in France they support the auteur filmmaker and in this country we don't."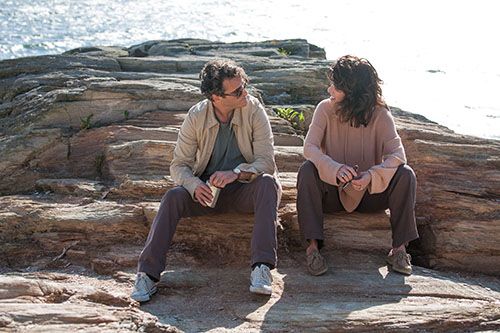 So, on that note, what changes does Ms. Posey want to see in the industry right now?
"I want the stories to change. I want storytelling to come back in a way that's more inclusive to diversity, that's entertaining, that's light hearted," she said. "I think we're in really masculine times with explosions. In comedies and even cartoons you see violence, so there's a lot to talk about. It would be great to see changed. We can be so much more careful and still be entertaining."
"Do I wish there were more films with women my age and men my age acting like adults? Yes. But Irrational Man is a grown-up movie."